Martinique XGT Trike Conversion The ultimate in motortrike riding.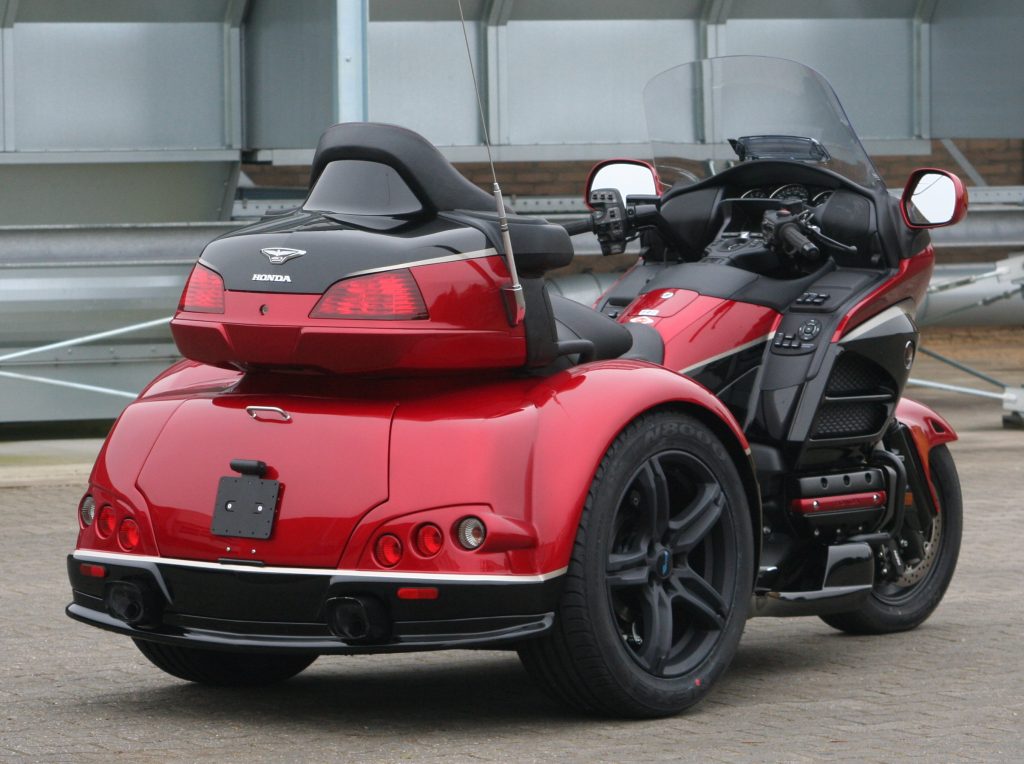 Our extremely popular Martinique GT conversion has undergone a major upgrade. Handling and comfort has been taken to a whole new level thanks to the new EML X-Line independent suspension system. EML has developed the X-line Suspension especially for the Goldwing 1800 trike conversion. The quality and finish of our EML trike conversions remains unrivalled in the world of trike design.
| Sizes and weights | |
| --- | --- |
| Length | 2.780 mm |
| Width | 1.370 mm |
| Heigth | 1.440 mm |
| Ground clearance | 150 mm |
| Track width | 1.100 mm |
| Wheelbase | 1.790 mm |
| Luggage room capacity | 145 liter (exclusive top trunk) |
| Weight | |
| --- | --- |
| Weight | 486 Kg |
| Max. weight | 713 Kg |
| Breakes | |
| --- | --- |
| Front | 14" EML |
| Rear | 18" Alloy wheels |
Cruising the highway or taking a sporty approach through the corners gives you an indescribable feeling. The X-shaped independent suspension (X-Line) together with the stabilizer system ensures unprecedented performance. The New Generation EML gas shock absorbers ensure the correct damping and movement of the whole setup. A very high level of comfort and stability is maintained when cornering, Thanks to the new X-Line system minimizing corner lean. As with its predecessor, the rear suspension of the XGT can be adjusted with the original Honda pre load system giving you from 0 to 25 settings of damping adjustment at the rear. The ExtensoDive front fork system is included as standard with the new XGT. Improvements include the New Generation EML gas shock absorbers which offers more comfort and better handling qualities over previous dampers.
The exterior look and design has also been firmly taken care of. The XGT bodywork has a new fresh, sporty look yet still retaining those stylish looks and ample luggage space exclusive to EML. The Footwings have been upgraded with the inclusion of a load bearing platform on which you can now stand when getting on and off. We have also increased the rider's foot area giving more room for the rider's feet.
With our New Martinique XGT you are guaranteed to steal the show where ever you park.
Independent X-Line suspension
Parking brake (with "P" indicator on the dashboard)
Stainless steel brake hoses
18"Alloy rear wheels with low profile tyres
Disc brake rear
ExtensoDive front fork with 14" EML wheel
Steering damper
Rear end spoiler
Black Line possibility
Changes and printing mistakes reserved.